DOCUMENT DESCRIPTION
This product (
5 Principles of Innovation Strategy [Arabic]

) is a 27-slide PowerPoint presentation (PPTX), which you can download immediately upon purchase.

في العصر الرقمي الذي يتسم بالتغير التكنولوجي السريع ، من الصعب تجاهل ضرورة التجديد والابتكار. وبالتالي عدم الابتكار قد يوصل المؤسسة لخسارة تجارتها .

لمعرفة كيف تستجيب الشركات لهذه المهمة، أجرت برايس ووترهاوس كوبرز دراسة عالمية كبرى غطت 44 دولة. كان الهدف هو فهم كيف ينظر القادة إلى الابتكار وما الذي يتم عمله لجني ثماره. أظهرت النتائج أن الشركات تكافح من أجل مواءمة جهود الابتكار مع استراتيجية العمل. تقوم الشركات عبر مجموعة واسعة من الصناعات والتكنولوجيا أيضًا بتسخير التكنولوجيا بصفتها المحرك الأساسي لتغيير السوق والابتكار وليس مجرد عامل تمكين.

كما تقوم الشركات بالشروع في عملية الابتكار في وقت مبكر لمجموعة أوسع من أصحاب المصالح داخل الشركة وخارجها، وحتى الزبائن والمتعاملين يتم التواصل والتفاعل معهم مع انطلاق مرحلة جمع الافكار. اليوم ، لم يعد الابتكار مجالًا محصوراً بالأقلية المختارة.

يناقش هذا الإطار المبادئ الخمسة لاستراتيجية الابتكار ، وهي أساسية في توجيه المنظمات لتحقيق تقدم باهر في الابتكار:

1. ابتكار مصدره الإستراتيجية
2. نماذج أعمال قابلة للتطبيق
3. نماذج الابتكار المفتوح
4. الخبرة البشرية
5. ابتكار مصدره التكنولوجيا

في عصر التكنولوجيا السريعة وتغير السوق ، أصبح من الضروري الآن للشركات زيادة قدرتها على الابتكار.

يتضمن هذا العرض التقديمي هذا مجموعة من نماذج الشرائح يمكن استخدامها في العروض التقديمية الخاصة بك.



Got a question about the product? Email us at [email protected]. If you cannot view the preview above this document description, go here to view the large preview instead.

Source: Best Practices in Arabic PowerPoint Slides: 5 Principles of Innovation Strategy (Arabic) PowerPoint (PPTX) Presentation, Flevy Arabia


ABOUT FLEVY ARABIA

Flevy Arabia provides management consulting presentations for the Arab world in Arabic. Click here to learn more about Flevy Arabia and to view all available presentations.

All Flevy Arabia presentations are also available to FlevyPro subscribers.

ABOUT FLEVYPRO

FlevyPro is a subscription service for on-demand business frameworks and analysis tools. FlevyPro subscribers receive access to an exclusive library of curated business documents—business framework primers, presentation templates, Lean Six Sigma tools, and more—among other exclusive benefits. Click here to learn more about FlevyPro and its benefits.
---
$25.00
All fees included. Immediate download upon purchase.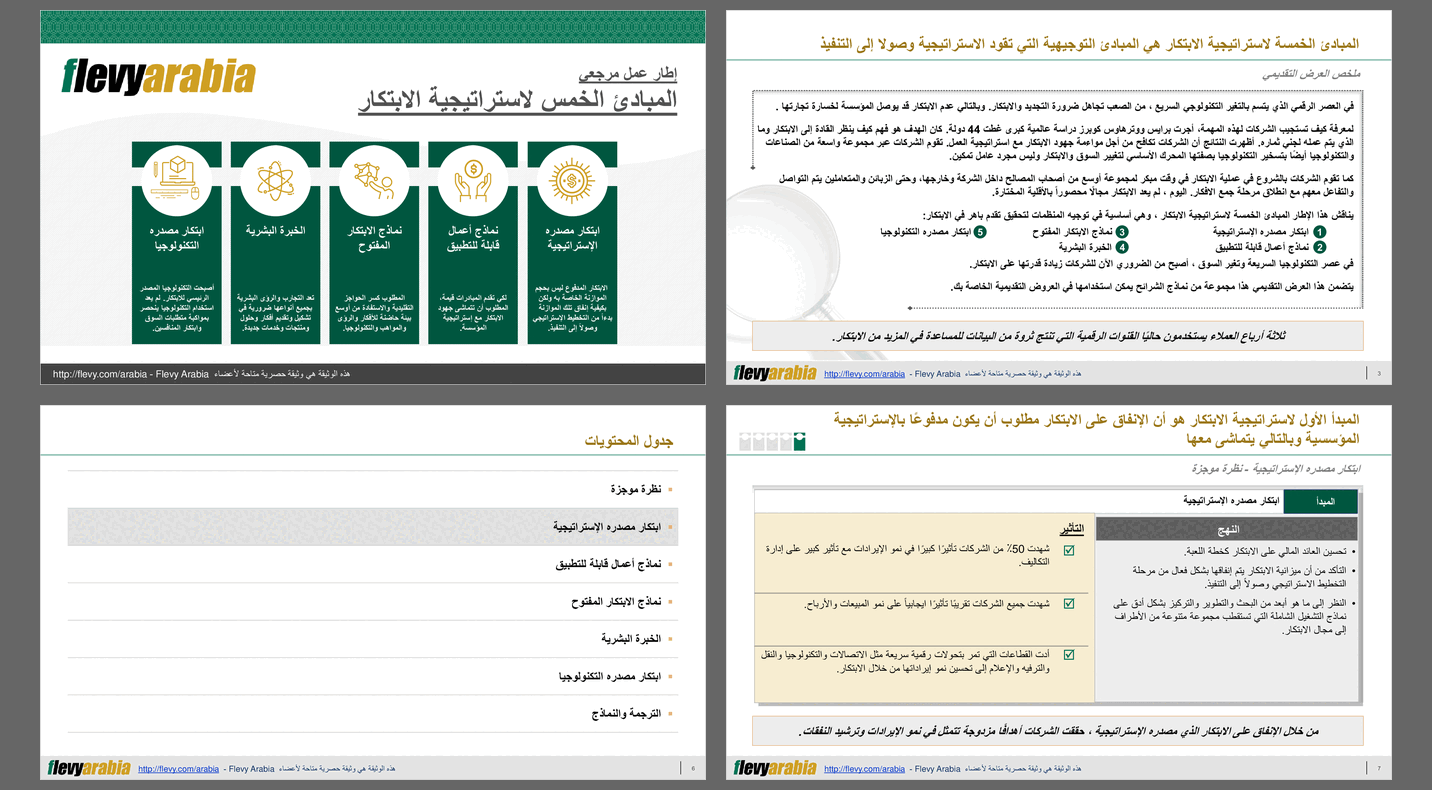 DOCUMENT DETAILS
File Type:
PowerPoint

(
pptx
)
Number of Slides: 27 (includes cover and all slides)
Language: Arabic
Immediate digital download upon purchase.
Lifetime document updates included with purchase.
Completely editable & customizable PPTX document.
Initial upload date (first version): Oct 19, 2022
---