BUNDLE DESCRIPTION
This product (
Modules 5 to 8 - Fundamentals of Change Management

) is a Document Bundle, which you can download immediately upon purchase.

This bundle contains the second 4 of the 8 modules of my Fundamentals of Change Management course and are about my Practical Framework Approach to Change

These are the actual slides I use during the course but these will come without context. You also need to be aware that these slides include the animations that I use during the course when you view them in "presentation" mode. The slides have been made available due to strong customer demand for those that prefer the form of learning which focuses on the written word. Reading and writing learners succeed with written information on worksheets, presentations, and other text-heavy resources. They are note-takers and perform strongly when they can reference written text.

Module 5 contains 70 slides with the following 3 sessions:

• Session 1 "Sponsorship" – Provides details of the critical role of a sponsor plus their key roles plus an outline of their key activities during projects + a case study.
• Session 2 "Stakeholders" – Introduces a simple stakeholder engagement model and how stakeholders can be analysed and managed + a case study.
• Session 3 "Communication" – Describes a simple model and how to create change awareness plus what different channels can be used + a case study.

Module 6 contains 77 slides with the following 3 sessions:

• Session 1 "Process Change" – Details how to create a process hierarchy, map as is and to be processes and the need for critical examination + a case study.
• Session 2 "Organisation Change" – Introduces a simple model for evaluating and determining organisation change plus implementation guidelines + a case study.
• Session 3 "Change Impact" – Explains how to evaluate the scope, size, and impact of the change and conduct impact assessment + a case study.

Module 7 contains 77 slides with the following 3 sessions:

• Session 1 "Training Management" – Describes all the necessary key activities needed to ensure people are adequately trained + a case study.
• Session 2 "Business Readiness" – Explains how to measure and assess the readiness of a business for go-live of an initiative + a case study.
• Session 3 "Adoption & Usage" – Describes the difference between the two and explains how to measure them + a case study.

Module 8 contains 61 slides with the following 4 sessions:

• Session 1 "Business Benefits Management" – Covers essential elements of managing and measuring business benefits + a case study.
• Session 2 "Continuous Improvement" – Provides details of the PDCA Cycle Plan, Do, Check and Act methodology.
• Session 3 "Success & Failure" – Some slides that encapsulate what change success and failure look like.
• Session 4 "A Short Story" – A short story about a technology change and how success is not quite as it seems.


THERE ARE 4 PRODUCTS ARE IN THIS BUNDLE:

Got a question about the product? Email us at support@flevy.com or ask the author directly by using the "Ask the Author a Question" form.

ABOUT THE AUTHOR: THE HIGHWAY OF CHANGE

The Highway of Change is me ... Ron Leeman.

I am a seasoned (that means older), well rounded (that doesn't mean overweight) multi-faceted (both from a business and personal perspective), dedicated and ethical professional who has an enviable track record of achievement.

I have been a Change, Process and Project professional since 1974. [read more] In my time I have worked for a multitude of large/medium sized companies as a Process, Change and Project professional in the UK, European-wide and Globally. My achievements have been and continue to be recognised through the multitude of Recommendations and Endorsements on LinkedIn and in 2012 an award from the World HRD Congress for being a "Change Leader."

The documents I have here on Flevy reflect my approach to Change, Process and Projects. They are not meant to provide definitive answers, rather, they contain practical and simple approaches, tools and techniques that I have previously used and that have worked for me and, more importantly, the organisations who I have worked for. You can use them as the basis for reference and enhance and modify them as you see fit. They are your resource to build your capability.

The Highway of Change has published 49 additional documents on Flevy.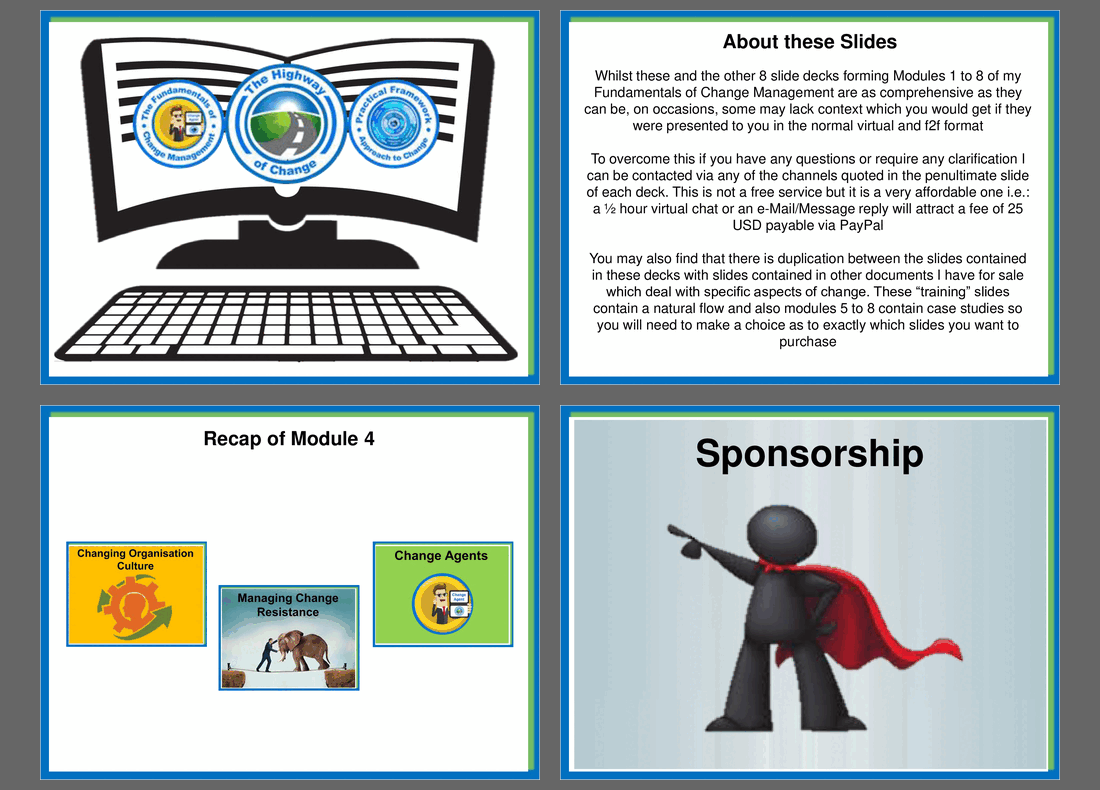 DETAILS
This business document is categorized under the function(s): Organization, Change, & HR
It applies to All Industries
Purchase includes lifetime product updates. After your purchase, you will receive an email to download the documents in this bundle.
Initial upload date (first version): Apr 18, 2022