DOCUMENT DESCRIPTION
This product (
Kanban Board: ISO 38500

) is an Excel workbook (XLSX), which you can download immediately upon purchase.

A Kanban Board is a Lean & Agile Project Management tool used to implement Kanban to manage work at a personal or organizational level.

Kanban Boards visually depict work at various stages of a process using cards to represent work items and columns to represent each stage of the process. Cards are moved from left to right to show progress and to help coordinate teams performing the work. A Kanban Board may be divided into horizontal "swimlanes" representing different kinds of work or different teams performing the work.

With this ISO 38500 Kanban, you can assess the benefits and the risks of information by using tools such as business capability models to create an information-centric view to quickly visualize what information matters most to the organization based on the defined business strategy; create and manage business information models in all their forms, including conceptual models, relational database designs, message models and others; use tools such as business information models to provide the organization with a future-state view of the information landscape that is unencumbered by the specific data implementation details imposed by proprietary solutions or technologies; lead decision design; participate in the analysis of data and analytics security requirements and solutions and work with the chief information security officer (CISO) and Chief Data Officer (CDO) to ensure that enterprise data and analytics assets are treated as protected assets.

This Kanban offers the following benefits:

• Reconcile Enterprise Architecture work, information management and data governance.
• Improve the effectiveness of security and risk management programs as well as clearly articulate the connection between IT risks and business impact.
• Analyze data in motion when it has not landed in a database yet.
• Use the information and the tools that the government has available to it that is unique and ensure that you defend that.
• Ensure that everyone who needs to have certain information gets it when they need it.
• Integrate the work of IT with that of records and information management (RIM) professionals and the legal department.
• Position information governance, data management, BI, quality, enterprise architecture, risk and data science.
• Extend the analytics capability beyond your developers, data scientists and business analysts so its accessible closest to the decision maker.
• Demonstrate that the business processes you have employed are being adhered to as documented.
• Know what was done to the data before you use it.

This Kanban Board is downloadable as an Excel file. You will need to import the Excel into Airtable, Monday, Smartsheet, Power BI, or the Kanban visualization tool of your choice.

The above preview is only a partial snapshot of all the data included in the Kanban Excel import. The full document has 1,600+ records.

Got a question about the product? Email us at support@flevy.com or ask the author directly by using the "Ask the Author a Question" form. If you cannot view the preview above this document description, go here to view the large preview instead.

Source: Kanban Board: ISO 38500 Excel document (xlsx)

ABOUT THE AUTHOR: GERARD BLOKDIJK

Gerard is the CEO at The Art of Service. He has been providing information technology insights, talks, tools and products to organizations in a wide range of industries for over 25 years. Gerard is a widely recognized and respected information expert. Gerard founded The Art of Service consulting business in 2000. Gerard has authored numerous published books to date.

Gerard Blokdijk has published 297 additional documents on Flevy.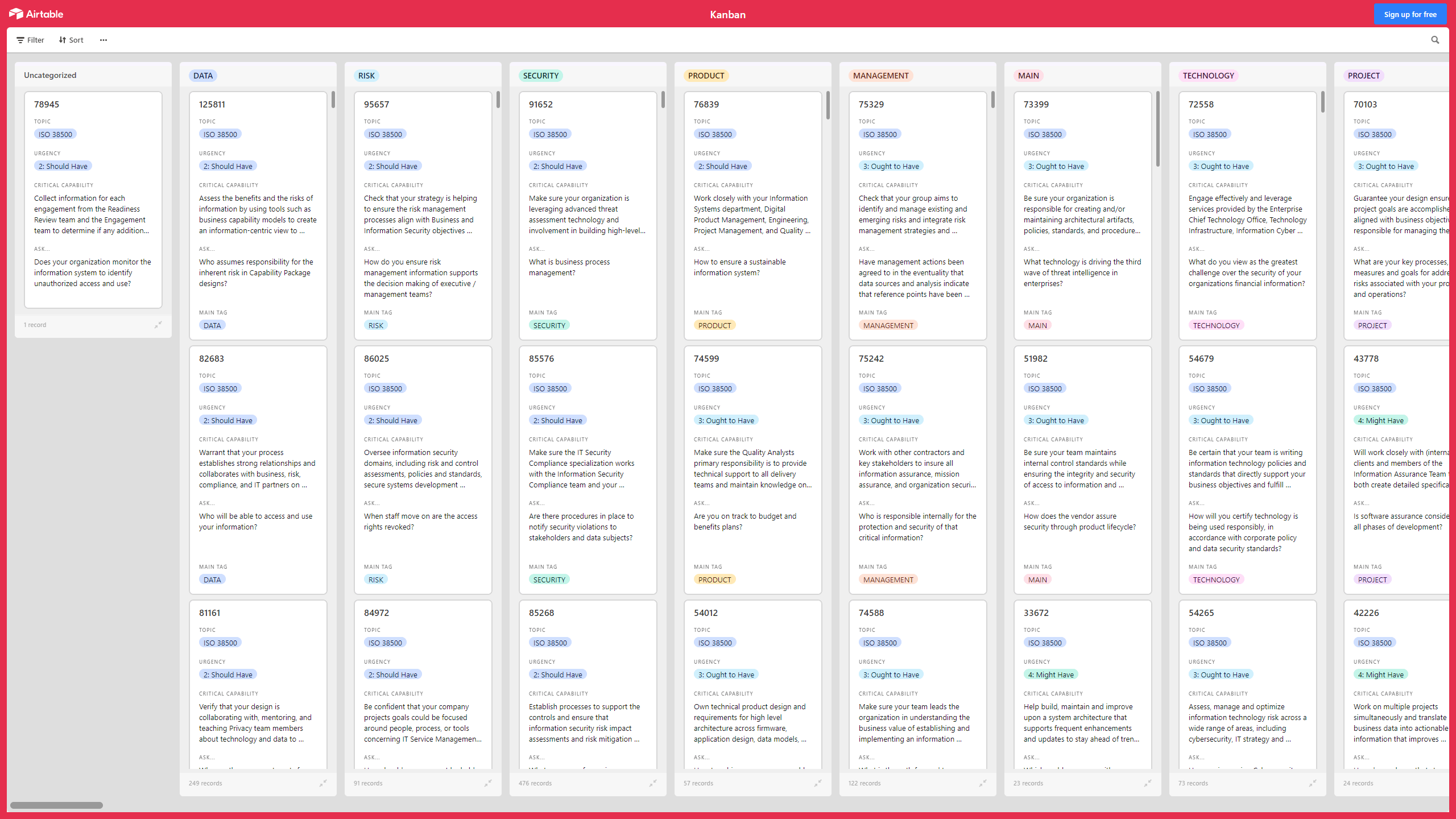 Since 2012, we have provided best practices to over 5,000 businesses and organizations of all sizes across the world—in over 130 countries. Below is just a very small sample of our customer base.