BUNDLE DESCRIPTION
This product (
How to Design Financial Management System

) is a Document Bundle, which you can download immediately upon purchase.

How to Design Financial Management System

A financial management system is the processes used to manage income, expenses, and assets in an organization. In addition to supporting daily financial operations, the purpose of a financial management system is to maximize profits and ensure long-term enterprise sustainability. They help finance teams:

1. Streamline invoicing and bill collection
2. Optimize daily, monthly, and yearly cash flow
3. Maintain audit trails and comply with accounting regulations
4. Automate finance processes and reduce accounting errors
5. Deliver better budgeting, forecasting, and planning
6. Speed up financial close and reporting activities

An effective financial management system provides companies with a full suite of accounting software and a single source of truth. Within the system are many different tools, which can be grouped into the following four categories:

1. General accounting and financial close: Tools for accounting and financial close support essential bookkeeping activities such as general ledger, accounts payable (AP), accounts receivable (AR), and payroll. They help teams generate reports, create financial statements for income, expenses, and balances – and close the books quickly and with less effort. Tax management features also help ensure tax accuracy and compliance.

2. Revenue, cash, and treasury management: With revenue accounting tools, finance teams can automate billing processes, view up-to-the-minute payments, and ensure compliance with statutory regulations for revenue recognition, such as IFRS 15. Cash and treasury management tools help teams predict cash flow, improve liquidity, and proactively mitigate risk. This software also integrates with banking systems, so users can get real-time visibility into bank balances and simplify reconciliation in accounts.

3. Financial planning and analysis: This set of planning, forecasting, budgeting, and analytical tools help CFOs and their teams support the company's overall financial health. FP&A software is critical for analyzing costs and profitability, improving performance, predicting and navigating future conditions, and providing fast and accurate decision support to the C-suite. It also supports multi-scenario planning and collaboration between finance and every other department.

4. Governance, risk, and compliance: GRC tools help teams align organizational activities to business goals, identify and mitigate different types of risk, and ensure compliance with laws and regulations – from GDPR and SOX to international trade agreements. By synchronizing data across corporate governance, risk management, and compliance activities, companies can operate more efficiently, navigate uncertainty, and act with integrity.

Most companies are still in the early stages of applying digital technologies like cloud, augmented analytics, robotic process automation (RPA), artificial intelligence (AI), and blockchain to finance processes – but they are on the cusp of a major shift and the pressure is on. Not only are CFOs and their teams increasingly expected to provide rapid decision support to the business, but hard lessons learned from the COVID-19 pandemic are forcing leaders to accelerate finance transformation and new technology adoption.

It's easy to see why. The benefits of digital finance transformation – like instant intelligence, highly accurate predictive modeling, and more agile and automated processes – are the ingredients companies need to navigate change and adapt to the new normal. AI in particular is a driving force behind finance transformation, completely revolutionizing finance analytics, automation, and every process – from financial closing activities to risk mitigation and compliance.

Thank you for your attention.

Regards,

UJ Consulting


THERE ARE 12 PRODUCTS ARE IN THIS BUNDLE:

Got a question about the product? Email us at [email protected] or ask the author directly by using the "Ask the Author a Question" form.

ABOUT THE AUTHOR: UJ CONSULTING

UJ Consulting

Untung Juanto ST., MM. Founder of UJ Consulting. He is professionally experienced business and management consultant in several local and multinational companies. [read more] He has an experience in managing an effective and efficient company with various approach methods adapted to different industries because He had a career from the lower management level as Supervisor before finally being at the top management level. His Top Management experience started from the position of General Manager, VP Operation, HR Director and Business Development Director

He completed his undergraduate education majoring in Architecture at Diponegoro University, Semarang, Central Java, Indonesia. After that, He continued to Master of Management level majoring in Human Resource Management with cum laude predicate with a GPA of 3.94 at Mercubuana University, Jakarta, Indonesia.

His last work experience as Deputy President Director at Hutahaean Group in charge of 14 business units engaged in various industries including CPO Production, Oil Palm Plantation, Cassava Plantation, Tapioca flour production, 4 and 5 star hotels, waterparks, golf courses and housing with a total of employees more than 3,000 employees.

His biggest achievement was in 2021 when He served as Deputy President Director at Hutahaean Group Indonesia by increasing the company's revenue from IDR 700 billion to IDR 1.1 trillion (y/y) and increasing the profit margin by more than 20%. Doing a turn around on business units that have lost in the last 5 years become profits. In addition, He have also succeeded in creating an efficient and effective management system by redesigning the Business Process Management (BPM), reviewing Standard Operating Procedures (SOP) and Work Instructions and compiling the appropriate Key Performance Indicator Management (KPIM) to increase employee productivity.

He is currently active as a part-time business and management consultant (online) at Enquire Corp. and Flevy Corp. In addition, He also teach part-time at several universities for courses in strategic management, human resource management, project management, entrepreneurship and business.

UJ Consulting has published 169 additional documents on Flevy.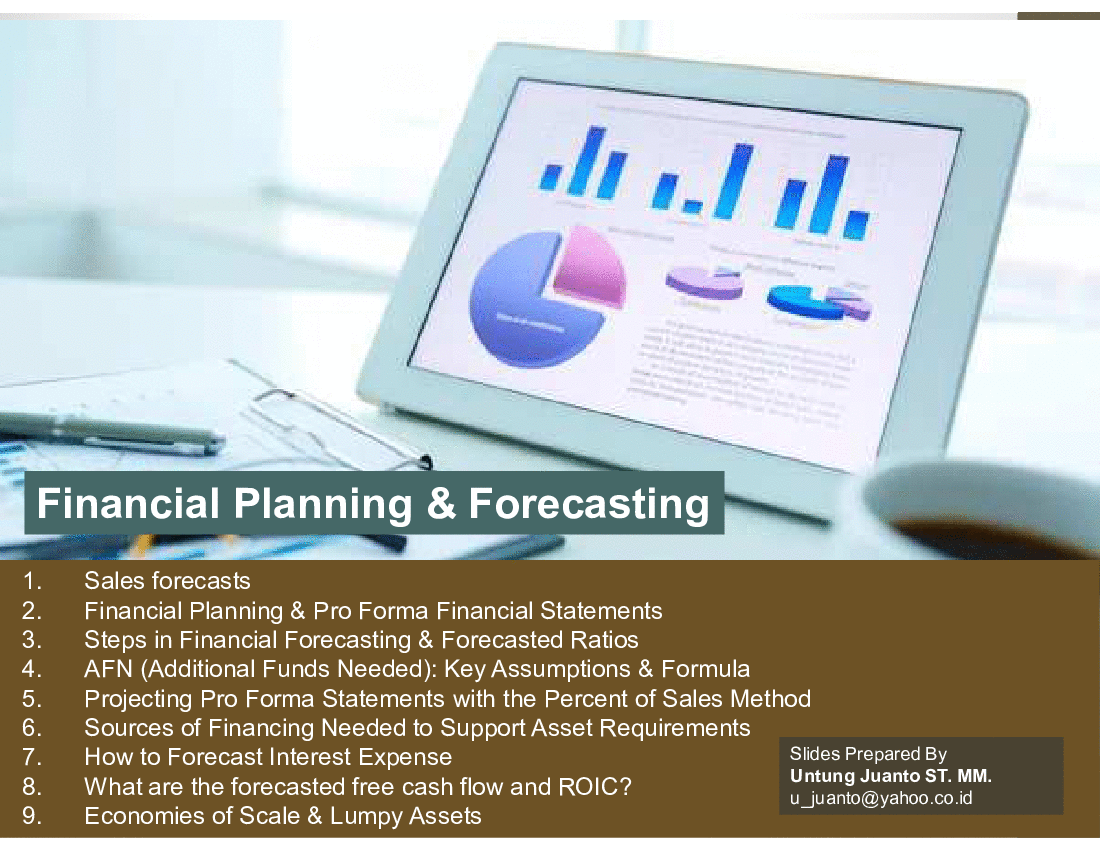 DETAILS
This business document is categorized under the function(s): Corporate Finance
It applies to All Industries
Purchase includes lifetime product updates. After your purchase, you will receive an email to download the documents in this bundle.
Initial upload date (first version): Dec 18, 2022