BUNDLE DESCRIPTION
This product (
Green Belt / Black Belt, With Popular 50 Tools & DFSS & DOE

) is a Document Bundle, which you can download immediately upon purchase.

Whether new to Lean Six Sigma or an experienced practitioner, this bundle adds the most comprehensive DFSS and Design of Experiments modules to the Green Belt / Black Belt bundle with the 50 most popular Lean Six Sigma tools. This is an exclusive offer to all the Lean Six Sigma practitioners hungry for knowledge and practice.

Includes Minitab exercises and solutions.

The Green Belt Black Belt Training Design Aid includes:

21 PowerPoint Presentations
1630+ Slides
74 Minitab / Excel-based Exercises

The 50 Tools include:

38 Excel-based templates/tools
2 Lean Deployment Roadmaps
10 PowerPoint and Word-based templates

WHO CAN USE THIS BUNDLE?

If you are leading or participating in a Lean Six Sigma, business transformation or a continuous improvement program, then this is a must-BUNDLE for you. We have created this to share what worked for us in different industries, different scenarios and with diverse teams.

We believe the contents will be handy for you and aid in your steps to build or manage your existing Lean Six Sigma program and training initiative in your client organization.

The bundle is a compilation of the training design aid, essential tools and templates that can be customized to your company's or client's needs. These tools were used hands-on by the consultants and hence proven and tested.

Post-purchase support is available.

EXTRA BONUS:

Please send us your comments and testimonials to QMaxima.

We will email you the LEAN SIX SIGMA QUICK INTRODUCTION COURSE WORTH for $90.00 FREE OF COST!

Please read this information booklet thoroughly. The bundle does not contain every tool used in Lean Six Sigma as that list might exceed 200 tools, which is beyond the scope of this offer.

Add this bundle to your library of learning tools today!

Got a question about the product? Email us at or ask the author directly using the form to the right. If you cannot view the preview above this document description, view the large preview instead.
———————————————————————————————————————

Design For Six Sigma (DFSS) & Design of Experiments (DoE)

The Design for Six Sigma (DFSS) bundle includes 65 presentations and can be a great source to design or shape your existing training material.

The Design of Experiments (DoE) is a comprehensive package with 21 presentations (chapters) covering basic DoE to advanced topics such as EVOP, Robust Design and Steepest Ascent. Use it to learn and apply only what is needed instead of spending hours searching for conflicting content online.

DESIGN FOR SIX SIGMA bundle includes:

Introduction to DFSS
Additional DOE Methods
Advanced Designs
DoE Intro
Fractional DoE
M1-Measure Objectives
M2-Basic Statistics
M3-Minitab
M4-Basic Graphing
M5-PMCECNXSOP
M6-Measurement System Analysis
M7-Process Centering
M8-Sigma Measurement
M9-QFD
M10-DFSS Intro
M11-DFSS Scorecards
M12-CTQ Flowdown
M13-CTQ Jugular
M14-DFSS Process Capability
M15-Design for Reliability
M16-Measure Deliverables
A1-Analyze Objectives
A2-Multivari
A3-Normality
A4-Sample Size & Risk
A5-Statistical Analysis
A6-Chi-square
A7-ANOVA
A8-Corr_Regression
A9-Regression
A10-EHS
A11- Historical_DOE
A12-Analyze Deliverables
A13-Appendix to Characterize
D0 Design for Reliability
D1-Stat Analysis Methods
D2-Stat Analysis Tools and Apps
D3-DoE Optimization
D4-Reliability Testing
D5-Summary and Review
DESIGN TOC
Optimize_DOE_RECAP
Optimize_Exercise_01
Optimize_Exercise_01_Solution
Optimize_Exercise_02_Catapult
Optimize_Process_Monitoring_Control
Optimize_Project Closure
Optimize_SWDFSS-DoE Example
Optimize_Tolerancing
Optimize_Tolerancing_addon

BONUS MATERIAL:
1 Intro To DFSS
2 Software Quality Overview
3 DFSS For Innovation Overview
4 DFSS For Commercial Quality Overview
5 DFSS Example

DESIGN OF EXPERIMENTS bundle includes:

DoE Comprehensive
Introduction to DoE 1
Fractional Factorial Design 1
Experimental Error
DoE Exercises
DoE Analysis Example
Historical DoE
DoE and Robust Design
Steepest Ascent
Evolutionary Operations – EVOP
Center Points and RSM

ADDITIONAL DOE MATERIAL TO ENHANCE YOUR TRAINING DESIGN
Introduction to DoE 2
Fractional Factorial Design 2
Full Factorial Design
DoE Strategy
DoE Analysis In Minitab
Intro to Robust Design
Non-Linear DoE
DoE Recap

Add this bundle to your library of learning tools today!


THERE ARE 5 PRODUCTS ARE IN THIS BUNDLE:

Got a question about the product? Email us at [email protected] or ask the author directly by using the "Ask the Author a Question" form.

ABOUT THE AUTHOR: QMAXIMA INC. - SIMPLIFYING EXCELLENCE

[read more] QMaxima is committed to helping you achieve maximums through quality services in:

• Program and Project Management
• Integrating Lean Six Sigma With Digital Technologies & IoT
• Process Performance & Value-Stream Mapping
• Product & Service Quality Improvement
• Lean Six Sigma & Change Management
• Metrics & KPI Management
• Comprehensive Dashboard Deployment

Our offerings include services in Business Process Improvement, Lean Six Sigma, Hoshin Kanri, Kaizen Event Facilitation to manufacturing, healthcare, software, and IT industries.

Our experienced consultants apply simple, yet powerful frameworks, methodologies and tools such as Lean Six Sigma, Process Management, Change Management, PROSCI, CMMI, ISO and others.

Our mission is to help your organization achieve and sustain unprecedented levels of process performance, product and service quality.

QMaxima Inc. - Simplifying Excellence has published 19 additional documents on Flevy.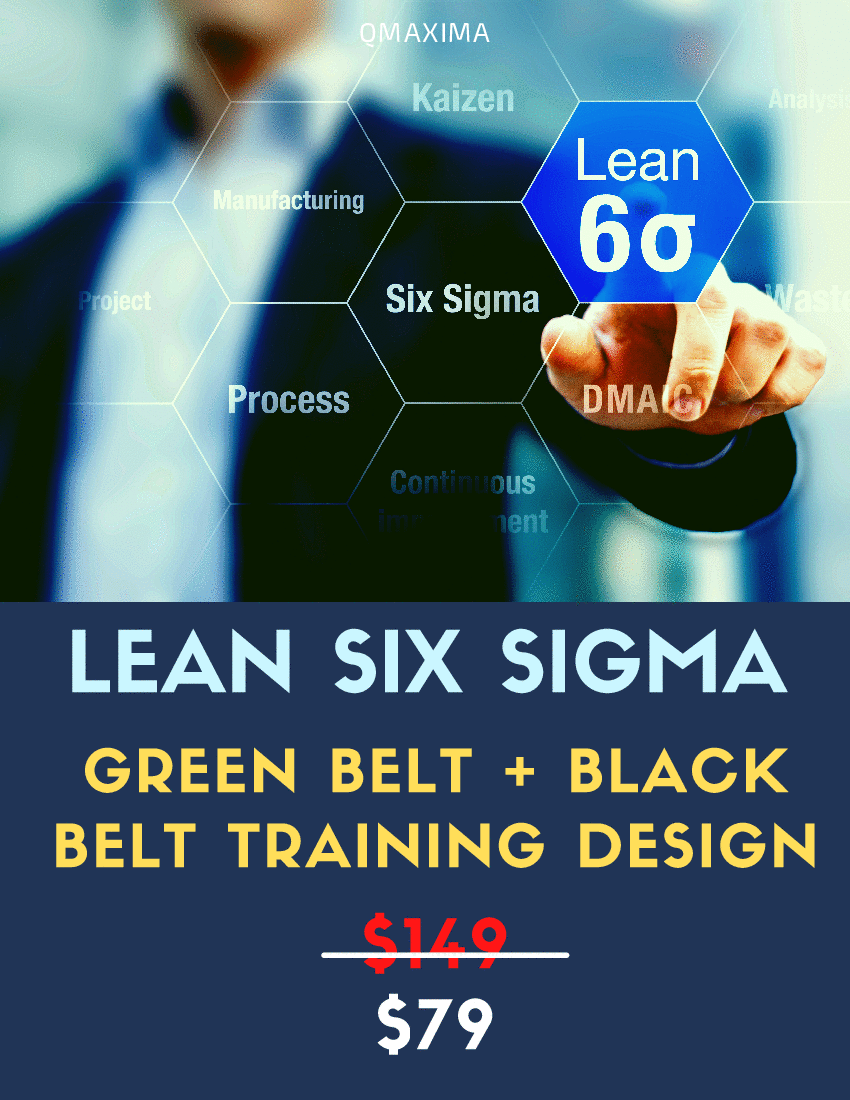 DETAILS
This business document is categorized under the function(s): Operations
It applies to All Industries
Purchase includes lifetime product updates. After your purchase, you will receive an email to download the documents in this bundle.
Initial upload date (first version): Jul 30, 2021