BENEFITS OF DOCUMENT
Master Document and Drawing Register is a tracking and monitoring tool for all project deliverables.
Master Document Register is used by Planning/Project Control Progress for weekly and monthly progress reports.
Document Control Department maintains, logs, and registers the Master Document Register for entire project.
DOCUMENT DESCRIPTION
This product (
Documents & Drawings Management Register [DDMR]

) is an Excel workbook (XLS), which you can download immediately upon purchase.

Documents & Drawings Management Register (DDMR) is a Master List of Documents and Drawing Transactions used by all Client, Design Consultant, Project Management Consultant, Main Contractor from Design till As-Built Stages in all Infrastructure, Engineering, Oil & Gas, Construction, Manufacturing Industries.

It's also called the Master Document List or Master Document Register.

DDMR is used also as a master controlling and monitoring tool as per planned date against actual progress achieved for each deliverable till it reaches to final revision for construction/manufacturing design approval by the client.

MMDR is helpful for:

1. Logging /Registering every Department generated document/drawing with it's number, revision, planned date, the actual date, the reason for tissue, approval status, and decided review cycles for approval.

2. MMDR is used as the real time progress report by the project controls/planning department as a progress monitoring tool.

3. Document/Drawing Approval, Review, Rejection/Delay/Hold from each department and stack holders could be reviewed and remedial action is taken by higher management to improve the progress.

4. Construction and Procurement activities are based on the design approval of the project and only approved for Construction documents will go to the site for further action through MMDR.

The Total Project Team is depending on the MMDR hence Document Controller plays a highly important role in registering every parameter in MMDR with accuracy in excel MMDR or EDMS system. Transmittals prepared along with submittals are logged by Document Controllers.

The weekly status of MMDR is sent to the concerned stack holders for review and action. MMDR is always shared in real time nowadays through EDMS with dashboard too. Each and every revision is monitored closely against Reason for Issue and Approval Status.

MMDR serves as a Master List hence Final Documentation deliverables also issued to the client only after referring its accuracy.

Got a question about the product? Email us at [email protected] or ask the author directly by using the "Ask the Author a Question" form. If you cannot view the preview above this document description, go here to view the large preview instead.

Source: Best Practices in Document Management Excel: Documents & Drawings Management Register (DDMR) Excel (XLS) Spreadsheet, Prakash Patel (DMS Trainer & Consultant)

ABOUT THE AUTHOR: PRAKASH PATEL (DMS TRAINER & CONSULTANT)

[read more] -Document and Records Managment Professional
-Document Control Trainer and Consultant
-Specialist in Developing and Implementation of Oil & Gas, Engineering & Construction, Resource, Infrastructure,EPC Projects, and Other Industries:

-Document & Records Management Policies and Plans
-Communication and Correspondences Procedures
-Document Numbering Procedures
-Document Control Procedures with Best Practices
-Document Management Templates /Formats
-Vendor Document Management Procedure
-Final Documentation Procedure
-Records Management Procedures
-Document and Records Management Workflows
-Digitization Strategies
-DMS/EDMS/WCM/ECM Implementation Process and Procedure Tool Kit
-Document Management Training Presentations
-Records management Training Presentations
-EDMS Software Training Presentations
-Document Controllers Interviews and Assessments Formats
-Document and Records Management Audit Templates and Procedure
-Document and Records Management Requirement Templates Evaluation, Pilot Testing, Training, Go live and UAT
-------------------------------------------------------------------------------
-Implemented Aconex, Live Link, Documentum, Infoworks, Petrocept, and many DMS software.(EDMS/WCM/ECM)
-Implemented DMS with ISO9001, ISO25489, ISO27000, and AEC82045 standards for compliance.
-Trained more than 2000 Document Control Professionals and Corporate staff for DMS software.
-Internal and Third-Party Auditor for Document & Records Management System (Archives) as per Retention Policy.
-Worked as Document Controller, EDMS Administrator, Project Administrator, Trainer, Recruiter, and Industry Consultant.
-Developed Workflows/Business Processes for the entire project from proposal to final close-out.
-ISO 9001 Internal Auditor for Integrated Management System
-Implemented Aconex, Live Link, Documentum, Infoworks, Petrocept, and other EDMS's.
-Strong Interpersonal skills and aggressive in expediting in meeting project's milestones.
---------------------------------------------------------------------------------
Developed a unique training program in Document and Records Management 4 courses comprises of more than 15 topics to cover the entire Document & Records Management Life Cycle adhere to compliance and governance.
-Certified Document Controller (CDC)
-Certified Lead Document Controller (CLDC)
-Certified Records Management Professional (CRMP) -
-Certified Enterprise Document Mgmt. Professional(CEDMP)
-Corporate Document Management Training Program
----------------------------------------------------------------------------------
My dream is to breed highly skilled and competent Document Professionals across the globe to serve the organizations with the best practices of digital content security and confidentiality with ethics and grow them individually to great heights. 
----------------------------------------------------------------------------------

Prakash Patel (DMS Trainer & Consultant) has published 3 additional documents on Flevy.
---
$30.00
All fees included. Immediate download upon purchase.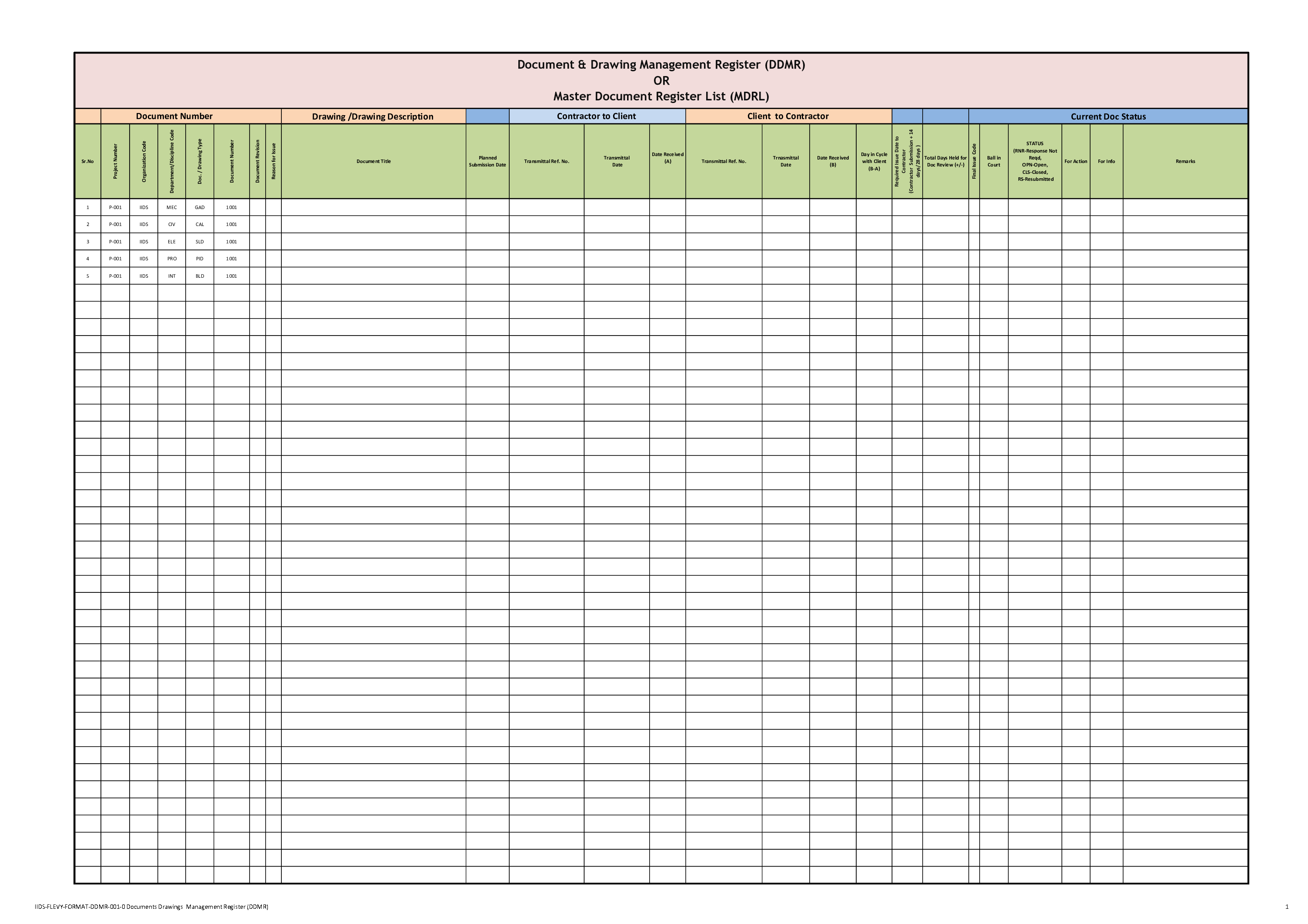 DOCUMENT DETAILS
File Size: 1.5 MB
Immediate digital download upon purchase.
Lifetime document updates included with purchase.
Completely editable & customizable XLS document.
Initial upload date (first version): Aug 28, 2020
Most recent version published: Aug 31, 2020
---