BENEFITS OF DOCUMENT
Sector Applicability: Operations and Management, Hard & Soft Facility Management,
Pricing Methodology Used: Suit for Bids priced using Cost + Markup methodology. Cost Calculations Time frame: User can populate and review cost elements on a monthly basis and better understand cost trend
Contract Life: Suitable for Contract Life up to 10 years/120 months. Scenario Management: BPS can incorporate 10 different scenarios at a time providing the user with greater flexibility to analyze results
DOCUMENT DESCRIPTION
This product (
Bid Price Simulator [Operations and Management Bids]

) is an Excel workbook (XLSM) with a supplemental PDF document, which you can download immediately upon purchase.

Bid Price Simulator (Operations and Management Bids)

Bid Pricing Simulator (BPS) is an excel based Bid Modeling Tool developed by Fin-wiser Advisory which helps organizations to prepare a commercial output for a Bid/Tender.

Bidding is a time-bound activity and BPS can provide impetus to your efforts of delivering a quality output by saving crucial time of commercial team to the tune of 120-150 hours.

Salient Feature:
1. Sector Applicability: Operations and Management, Hard & Soft Facility Management,
2. Pricing Methodology Used: Suit for Bids priced using Cost + Markup methodology
3. Contract Life: Suitable for Contract Life up to 10 years/120 months
4. Cost Calculations Time frame: User can populate and review cost elements on a monthly basis and better understand cost trend
5. Scenario Management: BPS can incorporate 10 different scenarios at a time providing the user with greater flexibility to analyze results
6. Multiple Redesigned Outputs: Fully Integrated Monthly & Annual Financial Statements, Cash Waterfall, NPV- IRR Analysis & more
7. Modeling Practice: BPS is designed and Build using Best Modeling Practice
8. Re-useability: This tool can be used for multiple Bids through the year hence saving a great deal of time and money.

BPS Includes following Input Tabs:
1. I_General_Assm.- Includes General Assumptions Like Start Date, Inflation & More
2. I_Staff_Salary- Inputs Related to Staff to be hired for the project
3. I_Staff_Phasing- Inputs Related to Staff Phasing during the project life
4. I_Mobilisation- Staff & Non-Staff Cost during Mobilisation Period
5. I_Subcontractor- Inputs Related to subcontractors to be hired for specialist services
5. I_Opex- Opex related inputs divided into 8 categories
7. I_Capex- Capex related inputs divided into 4 categories

BPS Includes following calculation Tabs:
1.C_Staff_Salary_Cost- Calculates Staff Cost by Each Role and Salary Cost Component
2.C_Mobilisation_Cost- Calculates both Staff & Non-Staff Related Mobilisation Cost incurred
3.C_Subcontractor_Cost- Calculates subcontractors related cost
4.C_Opex_Cost- Calculates Opex cost to be incurred during the bid
5. C_Capex_Cost- Calculates Capex & depreciation cost to be incurred during the bid
6. C_Working_Capital- Calculates Receivables and Payable for each cost account
7. C_Price_Calc- Calculates TCV of the contract using a Cost + Markup approach

BPS Includes following Output Tabs:
1. O_Financial_Statements- Includes Financial Statements i.e. IS, BS & CF on Monthly & Annual Basis
2. O_NPV-IRR- Includes NPV and IRR Analysis
3. O_Graphs- Graphical presentation of data points
4. Check- Includes a list of Arithmetical & Logical Checks

Additional Tabs
1. Cover- This is the cover sheet & includes project title & Logo
2. Model Structure- Flow chart to understand the Model Flow
3. Read Me- User Guide on Model
4. Price Tracker- Keeps a track of model changes


Important Technical Specifications:

The following are important technical specifications that you need to keep in mind before purchasing this model template:

1. Model is built using Microsoft Excel 2010 version.

2. Model uses Cell Styles

3. File type is .xlsx

Got a question about the product? Email us at [email protected] or ask the author directly by using the "Ask the Author a Question" form. If you cannot view the preview above this document description, go here to view the large preview instead.

Source: Best Practices in Tender Excel: Bid Price Simulator (Operations and Management Bids) Excel (XLSM) Spreadsheet, Fin-Wiser Advisory

ABOUT THE AUTHOR: FIN-WISER ADVISORY

Fin-wiser is a specialist advisory boutique focused on providing financial modelling, financial analysis, business transformation and business research services.

Our mission is to deliver high-quality Financial Models, Financial Analysis, Operational Transformation and Data Analytics which are custom made as per the business requirements. [read more] These solutions can integrate elements of business, accounting, finance, economics, operations and corporate psychology to summarize particular events for the end user and provide direction regarding possible actions or alternatives.

Our Vision - Fin-Wiser is committed to become the world's leading Financial and Transformation Advisory Company with the knack of providing excellent Training and Advisory services.

Our values depict our DNA. We imbibe these values and live for them. We are passionate about making a positive impact and deliver customize solutions. We treat our client's businesses as our businesses and act like supporting partners not just outside consultants. Your aspirations are ours. Fin-Wiser works hard to understand your reality and align itself with your objectives so you know we're together in this endeavor.

Fin-wiser Advisory's core services are as follows:-
1) Financial Advisory
2) Operations Advisory
3) Data Analytics
4) Process Mapping and Documentation
5) Training

Fin-Wiser Advisory has published 51 additional documents on Flevy.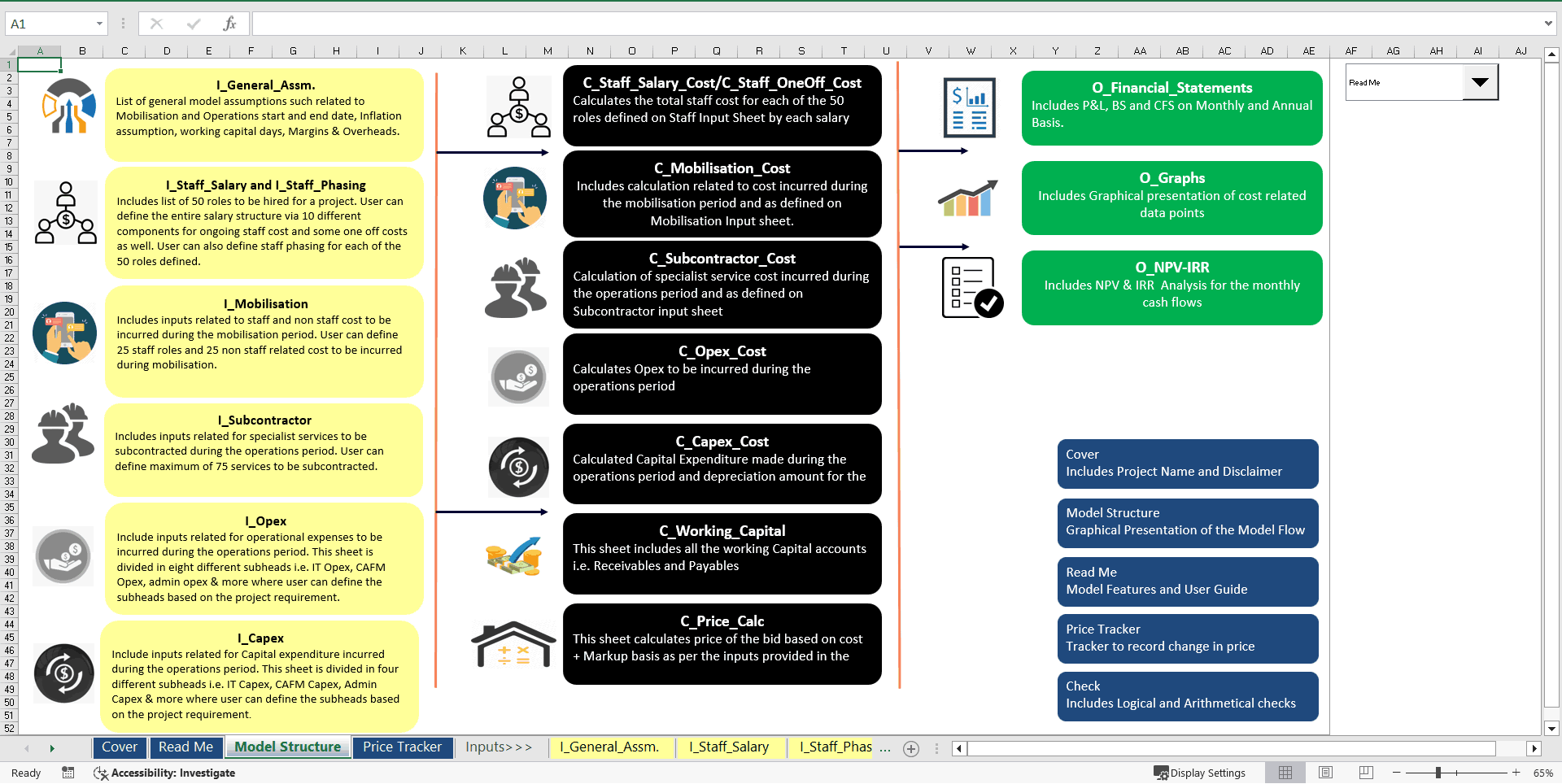 DETAILS
This business document is categorized under the function(s): Operations Strategy, Marketing, & Sales
It applies to All Industries
File Size: 5.2 MB
Related Topic(s): Tender
Purchase includes lifetime product updates. After your purchase, you will receive an email to download this document.
This product contains a supplemental PDF document.
Initial upload date (first version): Oct 27, 2020
Most recent version published: Oct 27, 2020