BENEFITS OF DOCUMENT
Provides 10-Year Financial Plan for a Hotel under a Lease Agreement.
?nable users to get into details of every step of a hotel operating analysis
Includes all necessary data needed to forecast company's financial and operational activities
DOCUMENT DESCRIPTION
This product (
Hotel Lease Financial Model - 10 Year Forecast

) is an Excel workbook (XLSX), which you can download immediately upon purchase.

General Overview

Highly-sophisticated and user-friendly financial model providing 10-Year Financial Plan for a Hotel under a Lease Agreement.
It includes all necessary data needed to forecast company's financial and operational activities, calculate capital budgeting and breakeven analysis and present company's results through professional presentation of charts & graphs.
The structure of the template follows Financial Modeling Best Practices principles and is fully customizable

Definition of Hotel Lease Agreement

Under a lease agreement, the hotel company rents the property from the property owner and operates the hotel as independent unit, separate from the property owner.
The hotel company, on its part, will bear all profit and losses, and all legal and commercial liability pertaining to the management of the hotel, the positive and the negative.
The hotel company (the lessee) reserves all incomes from the hotel and pays fixed rent (usually In addition to a certain percentage from the sales revenue).

Inputs

HOME
• Update General Business Info in the top section of the tab
• Update Fixed Assets and Working Capital Assumptions. If your hotel is not in a startup phase, enter year 1 Opening Fixed Asset Balance
• Update lease agreement terms
• Update sources of funding and loan terms (interest rate, loan time in years)
• Update the operation calculation assumptions

Payroll
This tab includes Hotel Payroll per Department. User needs to input the number of employees and the average monthly salary per position and the payroll tax rates
On the top of the sheet there is an option to calculate the forecasted payroll based on either an annual growth percentage or as a percent of total revenue.
User need to select the desired option form the drop-down list (cell C10)

Revenue & COGS
This tab is used to calculate Revenue & COGS per Service
User needs to input the occupancy rate and the ADR Growth Rate.
Revenue and COGS calculation are based on these two inputs and the initial inputs in the Home Tab
For Other Departments Revenue and COGS calculations, user needs to update the blue colored figures containing Year 1 Assumptions and Growth Rate %

Operating Expenses
This tab includes a detailed analysis of Variable and Fixed Operating Expenses.
In every Expense Category, user has the option to calculate the results based on either an annual growth percentage or as a percent of revenue by selecting the desired calculation method from the drop-down lists included in the blue colored cells in column C
Throughout the tab user needs to carefully update all blue colored figures for the calculations to work properly.

PPE & Debt Schedule
• Update the additions and depreciation rate % in each Fixed Asset Category
• Long-Term and Short-Term Loan Data are automatically calculated based on user's inputs in the Home tab

Outputs

The input tabs produce the following:
• 3 Statement Financial Model for Years 1-10
• Capital Budgeting, payback period and valuation of the company
• Breakeven Analysis & Chart
• Financial Ratios Analysis
• Charts & Graphs Dashboard
• Professional Executive Summary Dashboard

Help & Support

Committed to high quality and customer satisfaction, all our templates follow best practice financial modeling principles and are thoughtfully and carefully designed, keeping the user's needs and comfort in mind.
No matter if you have no experience or you are well versed in finance, accounting and the use of Microsoft Excel, our professional financial models are the right tools to boost your business operations!
If you however experience any difficulty while using this template and you are not able to find the appropriate guidance in these instructions, please feel free to contact us for assistance.
If you need a template customized for your business requirements, please e-mail us and provide a brief explanation of your specific needs.

Got a question about the product? Email us at [email protected] or ask the author directly by using the "Ask the Author a Question" form. If you cannot view the preview above this document description, go here to view the large preview instead.

Source: Best Practices in Integrated Financial Model, Hotel Industry Excel: Hotel Lease Financial Model - 10 Year Forecast Excel (XLSX) Spreadsheet, Profit Vision

ABOUT THE AUTHOR: PROFIT VISION

Profit Vision provides Consulting & Outsourced Financial Services as well as Financial Planning & Performance analysis to small and mid-size businesses by implementing efficient and effective tools to assist them with start-up business plans or improve their ongoing operations. [read more]

Our range of services include Financial & Operational Analysis, Business Planning, Budgeting & Forecasting, Cash Flow Planning, M&A/LBO Modeling, Business Valuations and more.

We also offer a collection of ready-to-use financial templates covering a variety of industries (Real Estate, Hospitality, Manufacturing, Energy, Food & Beverages, Retail, Healthcare, etc.), as well as tailor-made financial modeling services adjusted to customers' business requirements providing flexible solutions in building a bespoke forecast for their business.

Profit Vision has published 160 additional documents on Flevy.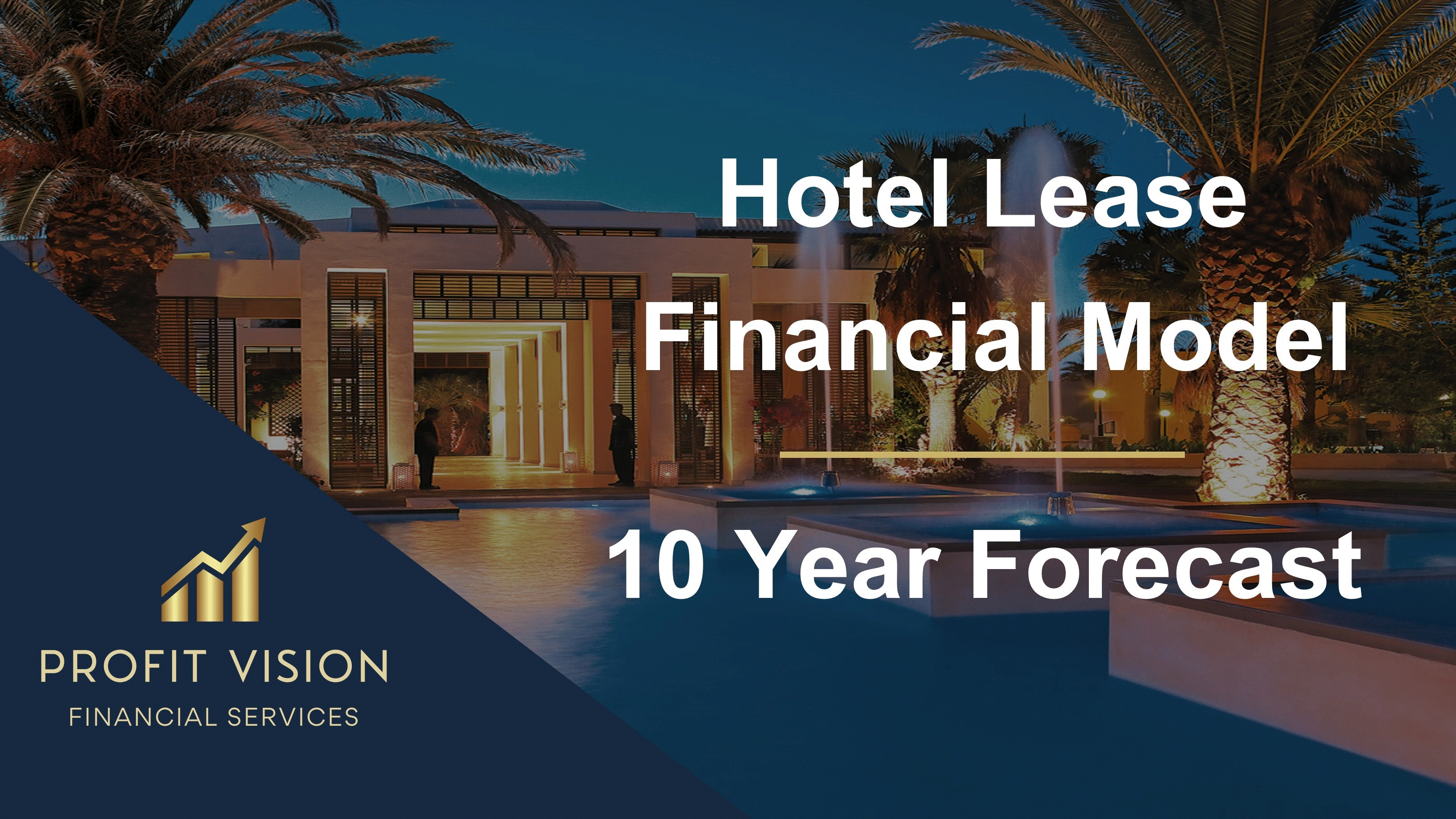 DETAILS
File Size: 319.6 KB
Related Topic(s): Integrated Financial Model Hotel Industry
This business document is categorized under the function(s): Corporate Finance Operations
Purchase includes lifetime product updates. After your purchase, you will receive an email to download this document.
Initial upload date (first version): Jun 26, 2021
Most recent version published: Aug 18, 2021