BENEFITS OF DOCUMENT
ProfitQube Consolidation provides an all-in-one professional application for corporate internal control, plan, budget or forecast.
ProfitQube Consolidation offers a planning of the parent company to top managers. In a snapshot, they can see overall group health and how the parent company is impacted by each subsidiary.
ProfitQube Consolidation together with ProfitQube makes the perfect solution for corporations that need an agile and inexpensive package for evaluating strategic investments and joint ventures.
DOCUMENT DESCRIPTION
This product (
ProfitQube Consolidation - Integrated Financial Planning

) is a 7-page PDF document with a supplemental document, which you can download immediately upon purchase.

ProfitQube Consolidation for Production, Trade and Services (Excel/VBA, release 1.0.3)

Get 70% off on ProfitQube!

This is an exceptional offer to help companies facing COVID consequences to implement mitigation actions.

Incredible offer take advantage while it lasts!

NOW AVAILABLE FOR EXCEL 32-BIT AND EXCEL 64-BIT.

INCLUDES TECHNICAL SUPPORT AND UPDATES FOR 12 MONTHS.*
*Do not apply to offers

Want to give ProfitQube Consolidation a test drive? Email Flevy for a FREE 30 days trial (email located at the top of the page). Please specify if you run Excel 32 or 64 bit.

NOTE: ProfitQube Consolidation works only in conjunction with ProfitQube. It is not meant to be used as stand-alone application.

The functionality of financial consolidation plays an essential role in making business planning, budgets and forecasts more precise, quicker and easier to produce for multi-entity organizations.

ProfitQube Consolidation is a tool that makes it easy to manage and report financial statements, whether the organization is a SME or a Corporation operating in a domestic or global market.

ProfitQube Consolidation is a management accounting add-on of ProfitQube which enables the consolidation of Income Statement, Balance Sheet and Cash Flow (Direct and Indirect) with few clicks.

Combine your Subsidiaries and Parent Company Financial Statements for corporate internal control, plan, budget or forecast and for evaluating strategic investments and joint ventures.

The consolidation process consists of the aggregation of a Parent Company financial statements (Controlling Company) with that of its Subsidiaries (Controlled Companies) displaying the parent and the subsidiaries as one single entity.

The process starts by exporting Financial Statements from Subsidiaries and Parent Company from ProfitQube; these files are then imported in ProfitQube Consolidation application ().

ProfitQube Consolidation sums the Financial Statements from Subsidiaries and Parent Company into one single entity.

The single entity worksheet is then exported in a new file for further re-working to offset (eliminate) the intercompany transactions, the subsidiary's shareholder equity and the parent's investment accounts.
The ProfitQube Consolidation bundle package contains:
• ProfitQube Consolidation application (EXE)
• "ReadMeFirst!_" for a quick start

Export functionality, User Friendly interface and colors, facilitate the use of this cutting edge application.

Workbook, Worksheets and VBA are password protected. The license is bounded to the computer hardware ID where ProfitQube Consolidation is installed. It cannot be installed on another computer unless buying another license.

Activation Key enabled by MS Office protection market leader.

The ProfitQube Consolidation was designed and developed by Dr Gian Paolo Avanzo.

He has worked as Senior Financial Analyst and CFO for 11+ years in multinational companies such as Chubb Security PLC, TNT Express, Unisys, Purina and Avdel.

During that period, he has re-engineered and optimized financial business processes, improved communication with stakeholders and acted as country project manager for deploying BAAN ERP system.

He then moved into SAP arena leveraging his knowledge to act as Senior FICO/Project/Transformation manager for 20+ years and devoting himself to define global templates, harmonize cultures, collaborate with end users and executives, transform business processes through best business practices, manage changes and expectations of clients such as AbbVie, Bemis-Mactac, Fujifilm, Novartis (Sandoz Anti Infective, Ciba Vision, Vaccines & Diagnostics, Consumer Health, Pharma) ,Owens Illinois, Delphi, Thomson, Total, Saudi Electricity, Kraft, Hercules, ABB, Montell, Foxboro, Sonepar, Procter & Gamble.

He team-worked with PWC, KPMG, E&Y, Deloitte, Infosys, IBM, Accenture, Charles River Associates, Unilog, Atos-Origin, Bull, Siemens, Tata and Lodestone.

NOTE: This product includes Technical Support and Updates for 12 months. It DOES NOT contain lifetime product updates, as stated in the blue box on the right.

Got a question about the product? Email us at [email protected] or ask the author directly by using the "Ask the Author a Question" form. If you cannot view the preview above this document description, go here to view the large preview instead.

Source: ProfitQube Consolidation - Integrated Financial Planning PDF document (pdf)

ABOUT THE AUTHOR: DR GIAN PAOLO AVANZO

Dr Gian Paolo Avanzo is Managing Director and Founder of Crown Consultancy Services.

He graduated in Business and Economics at Cattolica University in Milan and attended to SAP finance and controlling courses. [read more]

He is passioned and committed to inspiring awareness of Best Planning Practices which helps customers finding opportunities for effective growth and has designed, developed and market ProfitQube, the Enterprise Integrated Financial Planning application (EIFP).

ProfitQube drives organizations to focus on accurate and reliable medium-long term strategic planning and enables financial targets achievement for revenue, operating profits, working capital and asset utilization.

With over 35 years in private sector, Dr Avanzo has experience as financial analyst, CFO, SAP senior FICO, project-rollout-country localization manager, transformation and change management, training, team building, share service centre implementation and strategic implementation.

He has managed and restructured financial departments in multinational companies (Unisys, Avdel, Chubb, TNT for 10+ years) and was local steering committee president and international steering committee member for the implementation of Triton BAAN ERP system at CHUBB LIPS Italian division.

Dr Avanzo has managed SAP ERP and organization projects worldwide for Blue Chips (Total, Novartis, Shell, ABB, AbbVie, Kraft Foods, Owens Illinois, Saudi Electricity Company, Fuji, Montell and more for 20+ years).

Montell (Shell+Montedison) project has been awarded the KPMG MRD Teamwork Award for 1998.

Achievement statement:

• Re-engineer financial business processes as CFO &
Financial Analyst in multinational company subsidiaries.

• Develop financial decision support system for SME,
business and finance professionals.

• Transform blue chip company business processes.

• Model and deliver worldwide common SAP business
processes template, harmonize and localize country
requirements.

• Identify, promote and implement best business practices.

Dr Gian Paolo Avanzo has published 6 additional documents on Flevy.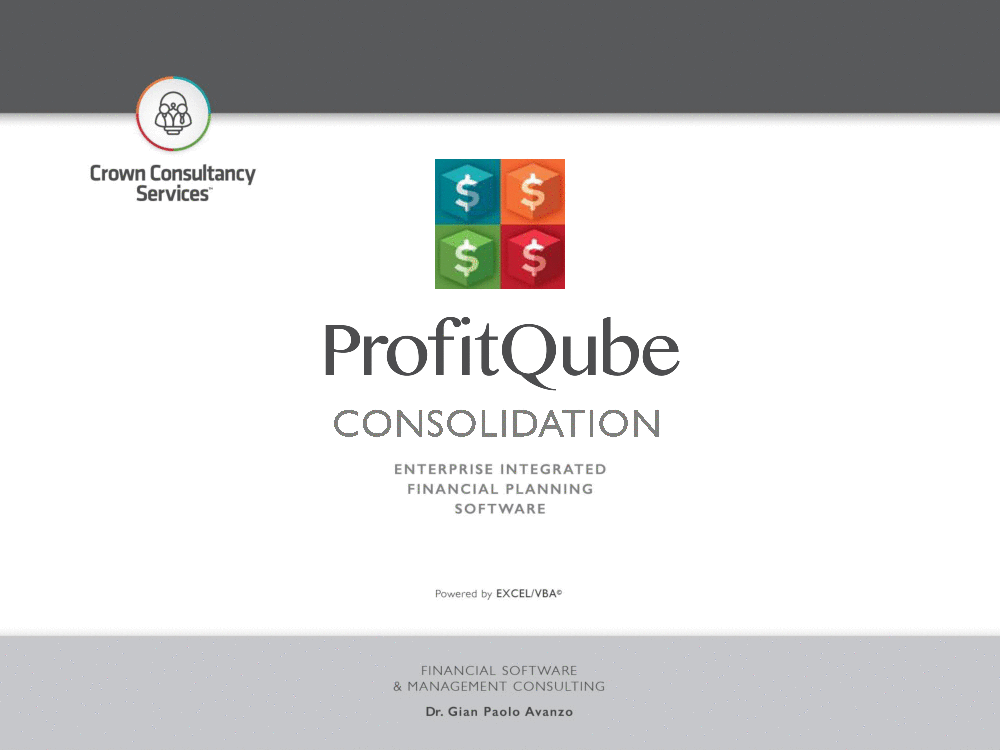 DETAILS
This business document is categorized under the function(s): Corporate Finance Strategy, Marketing, & Sales
It applies to All Industries
File Size: 755.9 KB
Number of Pages: 7
Related Topic(s): ProfitQube
Purchase includes lifetime product updates. After your purchase, you will receive an email to download this document.
This product contains a supplemental ZIP document.
Terms of usage (for all documents from Dr Gian Paolo Avanzo)
Initial upload date (first version): Mar 27, 2020
Most recent version published: Sep 6, 2021