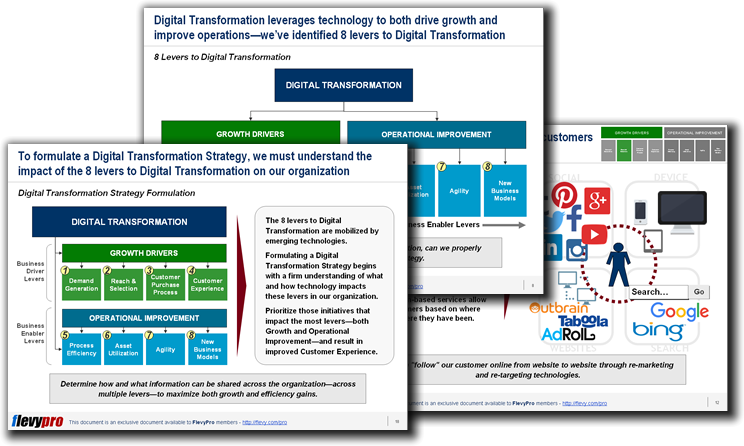 The following presentations are included in this toolkit.
Digital Transformation
Digital Transformation is the hot topic these days! It is becoming critically important, as the role of technology shifts from being a business enabler to a business driver. Transformation is driven by 6 Technology Trends, each of which should be carefully considered in your Strategic Planning.
Strategy Development & Execution
Many companies develop robust strategies, but struggle with operationalizing their strategies into implementable steps. This presentation introduces 12 powerful business frameworks spanning both Strategy Development and Strategy Execution. These are useful tools that should be leveraged in every Strategic Planning exercise.
Market & Customer Segmentation
Proper Market and Customer Segmentation is crucial to your organization's success. It creates the foundation to a relevant Value Proposition and Go-to-Market Strategy. Performing this exercise incorrectly will lead to misinformed—potentially disastrous—strategic business decisions.
Customer Experience
The Customer Experience is evolving from a traditional linear process (with few touch points) to a continuous, circular process (with constant touch points). This new approach to Customer Experience has been captured by many top-tier management consulting firms, as it's at the core of Digital Growth Strategy.
Strategic Planning Discussion Deck
Lastly, we have included a real discussion deck template for a Strategic Planning session. In this presentation, we go through a 2-prong approach to growth and evaluate the merits of various growth drivers.


Receive our Strategic Planning Toolkit in 2 easy steps:
1. Share this page on LinkedIn.

2. Send us an email ([email protected]) with the link of your LinkedIn post. The format of the link should be similar to this:
https://www.linkedin.com/feed/update/urn:li:activity:12345678901234/