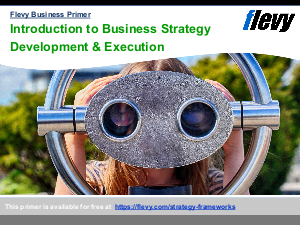 A successful business requires both a well developed strategy and the ability to execute on that strategy. Strategy without execution is merely theory. Many companies develop robust strategies, but fail at operationalizing their strategies into implementable steps.

This 50+ slide presentation covers 12 strategic frameworks that deal with both sides--Strategy Development and Strategy Execution.

For each framework, we will provide an overview, explain its proper usage, and highlight the analyses involved.

This deck will also provide references to more detailed documentation, guides, and methodologies if you would like more information.

The following business frameworks are discussed:

• Consolidation-Endgame Curve
• Porter's Five Forces
• BCG Growth-Share Matrix
• Marketing Mix (4/7 P's)
• Strategy Framework Canvas
• SWOT Analysis
• PEST Analysis
• Product Lifecycle
• Consumer Adoption Curve
• Balanced Scorecard
• Organizational Hurdles
• Hoshin Kanri

Each framework is geared towards a specific type of analysis. Pick and choose the best frameworks to use for your particular business problem.

By downloading this document, I agree to continue receiving educational materials, newsletters, product updates, event invitations, and other information from Flevy and the author. I understand I may opt out or update my preferences at any time.