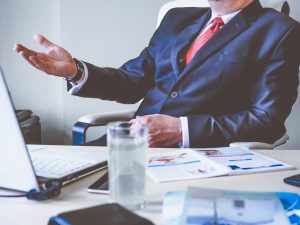 The use of behavioral competencies in appraising the skills and potential of leaders is a norm in organizations large and small.  The competency models are omnipresent owing to several reasons—a shared vocabulary to convey the expectations from people, a basis for Performance Management planning, and a means to express the parameters for career advancement.  However, problems surface when competencies are considered the only factor in evaluating the leaders' potential.
There are few limitations that bring criticism for the utilization of competency models in assessing leaders' potential.  These include their extensive reliance on past behaviors rather than future potential where relevant experience is deemed a critical element in establishing a leader's competence, complexity of execution, and clash of behavioral traits required under various competencies with one another.  These shortcomings and complexities warrant a different approach to assess the leadership potential of executives.
The Leadership Competency Model is a newer, more robust competency assessment framework that not only evaluates the skills and abilities of leaders, but also examines their potential based on psychometric data of global leaders, neuropsychological research, and past studies on successful managers.
The Leadership Competency Model is comprised of 2 distinct elements:
Leadership Competencies
Leadership Potential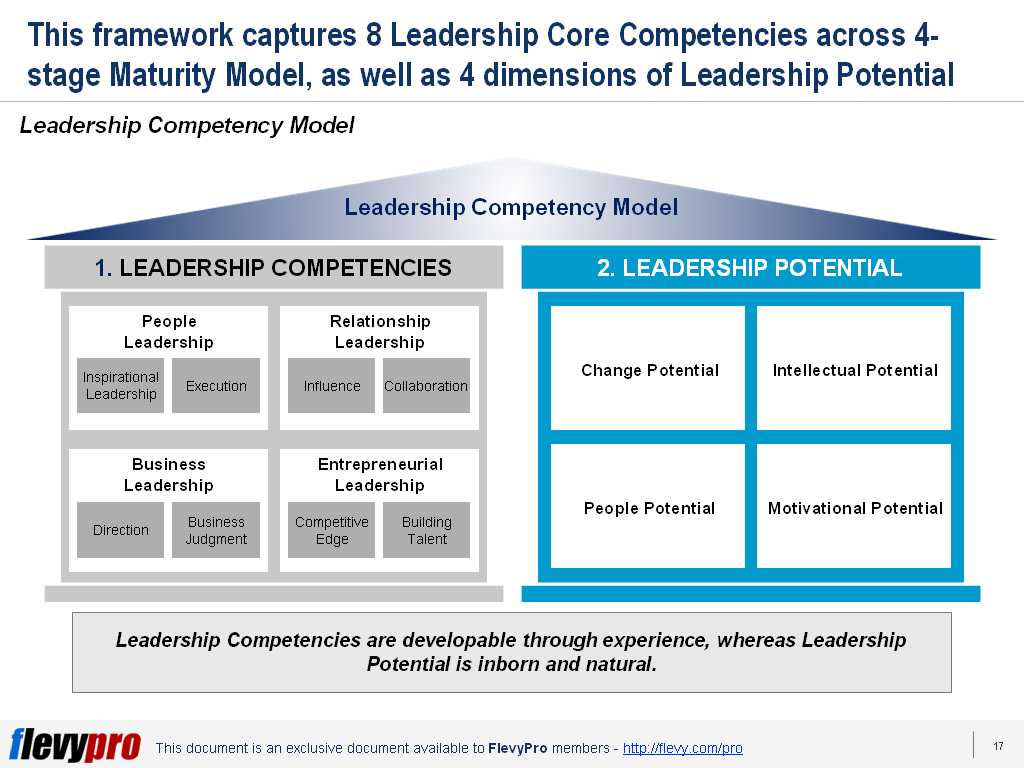 First, let's take a look at the Leadership Competencies.
Leadership Competencies
The Leadership Competencies are learned factors which are attained, developed, change over time, and indicate what a leader is capable of doing.  The leadership competency model encompasses 4 leadership competencies (each of which is further comprised of 2 Core Competencies):
People Leadership
Relationship Leadership
Business Leadership
Entrepreneurial leadership
People Leadership
The People Leadership competency involves 2 core competencies:
Inspirational Leadership: That entails establishing leadership impact by projecting confidence, expertise, and authority to energize and motivate people to support you.
Execution: Entails driving execution and achieving results through other people by tracking team performance, building and aligning capabilities, and motivating teams.
Relationship Leadership
Relationship leaders develop knowledge and skills to inspire people and develop strategic relationships.  The Relationship Leadership competency involves 2 core competencies:
Influence: Entails influencing people with varying perspectives and interests using interpersonal persuasion approaches, and getting their agreement to support key endeavors.
Collaboration: Entails creating an ecosystem of team work, by generating support from people across the enterprise, and recognizing and capturing synergies internally and externally.
Business Leadership
At the top maturity level of Business Leadership, leaders develop competencies to set future vision and make decisions that deliver shareholder value.  The Business Leadership competency involves 2 core competencies:
Direction: Entails setting clear direction and priorities for cross-functional teams, creating a shared purpose and objective, and keeping teams focused on one vision.
Business Judgment: Entails making decisions related to effective resource utilization and maximizing commercial return.
Entrepreneurial Leadership
At the top maturity level for entrepreneurial leadership, leaders champion innovation and build and sustain enterprise capabilities.  The Entrepreneurial Leadership competency involves 2 core competencies:
Competitive Edge: Entails driving change by improving existing practices, inspiring new ideas, and creating an ecosystem for people to innovate.
Building Talent: Entails building abilities to gain competitive advantage by developing the team and providing opportunities for diverse high performers to grow.
The second part of the Leadership Competency Model framework breaks down the dimensions to Leadership Potential.  These are hardwired or inherent factors which are hard to develop, stable over time and indicate how the person is.  The Leadership Potential has 4 major components:
Change Potential
Intellectual Potential
People Potential
Motivational Potential
Are you interested in understanding more about these 4 Leadership Potentials?  To learn more about developing Leadership Potential, as well as more in-depth discussion on Leadership Competencies, you can learn more and download an editable PowerPoint on the Leadership Competency Model here on the Flevy documents marketplace.
Are you a Management Consultant?
You can download this and hundreds of other consulting frameworks and consulting training guides from the FlevyPro library.