Editor's Note: Vishnu Rayapeddi is a recognized pioneer of Lean Management and founder of Productivity Solutions.   You can view all of his Supply Chain training materials on Flevy here.
* * * *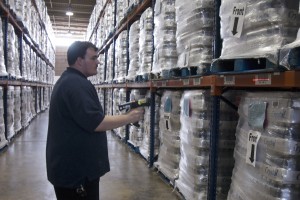 For accountants "inventory is an asset" and it is shown that way on balance sheets! Is inventory really an asset?
Inventory is an "idle resource" and takes up space, consumes money and needs a lot of time to manage it! In Lean thinking, inventory is categorised as a "waste" and is depicted with a "tomb stone" icon in Value Stream Mapping by Toyota!
But, as a matter of fact, inventory is required in most businesses to satisfy their customers. So, the question is how much to keep? The answer depends on the type of industry you are in and what level of customer service level (DIFOT) you would like to achieve. Is 100% DIFOT practical? May be or may be not! Again it depends on the type of industry you are in. But, surely you would the DIFOT to be closer to 100%. The more inventory you keep, the better is the customer service level. In essence it is a balancing act.
The question as to how much inventory to keep also depends on the type of environment your business works in, i.e., "Make to Stock," "Make to Order," "Assemble to Order," and "Engineered to Order" and the expected Lead Times by your customers.
Inventory Management and Inventory Control are the most widely discussed topics globally. Though businesses have been using computerised systems such as MRP, we still seem to get it wrong even today with advanced technology and ERP systems. The reason is simple…we don't stick to the basics!
The fundamentals of MRP haven't changed in decades and MRP is still the heart of every ERP system along with many added bells and whistles.
How does MRP work?
The inputs to MRP are:
Stock on Hand,
Forecasts or Customer Orders,
Master Data and Inventory Parameters such as
Bills of materials
Economic Order Quantities
Lead Times
Minimum Maximum Stock Levels
Safety Stock and
Re-order Point
The outputs of MRP are:
What to Order
When to Order
How much to order
Doesn't it look very straight forward? If it is so straight forward, why do we get it wrong? That's because we lack discipline! Just the way we need to maintain our body on a regular basis with food, water and exercise, we need to maintain the computer system.  What it means is that we need to ensure that the data is accurate, which means we need to review it on a regular basis and make amendments as required as everything around us keeps changing.
10  Tips for Your Inventory Control and Management
Work on getting the end-to-end "Visibility" in your supply chain;
If making to forecasts, ensure that the forecasts are as accurate as possible with input from your sales & marketing teams;
To ensure the "Stock On Hand" is accurate, introduce Cycle Counts and make sure the book / system stock and physical stock match within a +/- 2% accuracy;
Ensure stock rotation is done. In many businesses the raw materials and finished goods have certain shelf-life. To ensure you are using the correct shelf-life materials, use FIFO (First In First Out) or the items which are expiring first;
Ensure that all your Bills of Materials are accurate and if you are using "back flush" function, make sure you add a small "wastage %";
Ensure that the inventory parameters (items 3b to 3f in the inputs to MRP above) are reviewed and adjusted at least every 6 months;
Conduct an ABC Analysis and manage your inventory accordingly, i.e., keep a close eye on the A items, have less stock of them and procure frequently as they cost a lot to keep in inventory;
A inventory accounts for about 20% of the items and 80% of the dollar usage;
B inventory accounts for about 30% of the items and 15% of the dollar usage;
C inventory accounts for about 50% of the items and 5% of the dollar usage;
Store the materials as per ABC categories, i.e., Here the ABC's refer to Fast Moving, Medium Moving and Slow Moving. Keep the A's closer to the exit to reduce transportation and minimise damages and C at the far end of the warehouse;
Introduce 5S in the warehouse and implement "A Place for Everything and Everything in it's Place". In case your computer determines randomly the storage area, ensure that the records are accurate, i.e., if you physically move the items ensure to make amendments to your system. This would reduce your searching time hugely and increases productivity;
Introduce Kanban systems where appropriate.
The Important KPIs / Metrics for Inventory Management
Inventory Turns (Cost of Goods Sold / Average Inventory Value)
Stock accuracy