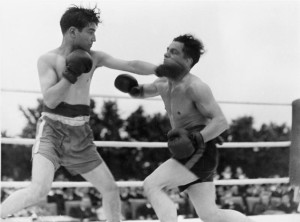 Too many businesses, young or old, struggle or fail because they never understand that you have to practice, practice, practice, then get in the ring and fight as if your life depended on it!
Business is a brutal contact sport for five main reasons, and it's getting worse.  You will not survive, grow and prosper:
if you don't listen to and learn from your customers and others who know more about them than you do
if you can't sell to customers empathically and build their sustained trust and loyalty
if you don't understand and outmanoeuvre the competition in whatever form it comes
if you don't learn fast and adapt by experimenting, finding out what works, and perhaps even more importantly, drop like a stone your cherished preconceptions, prejudices and sacred cows that don't or won't work
if you can't retain, motivate and enthuse great staff.
If you want to win, and go on winning, be prepared.  It will bruise you like going 15 rounds with Muhammad Ali!
The bewildering choice available to customers and their ability to gather and test information rapidly via the Internet are ruthlessly exposing weak business models, knowledge, thinking, attitudes, character, messages and behaviour like never before.
On 1st January, my 4 business partners and I officially re-launched my company Resolve Gets Results to address the same three problems we constantly encounter in businesses we work with, which drive us crazy!
They are obsessed with their product or service, which they assume everyone will love like they do, not with customers.
They are dangerously preoccupied and distracted by internal perspectives (what I call 'inside-out thinking'), including unrealistic financial objectives, restructuring, unsubstantiated opinions, personalities, personal crusades/ego trips, power struggles and politics.
Under no circumstances do they want to know what their customers really think – it's too inconvenient or threatening!  So they guess what customers are thinking and then convince themselves that it's reality!
The vast majority of us are guilty of at least one of these mortal sins some or much of the time.
If you don't believe me stop and think for a moment.  Ask yourself the following questions and be brutally honest:
Who runs your organisation and influences or dictates its culture, attitudes and behaviours?  To what extent do they seek, understand or accept customer perspectives on your business and your marketplace, especially if these contradict their own prejudices and personal objectives?
Is your organisation focused on minimising cost and maximising profit, irrespective of its effect on customers?  Does it believe it can tell customers what to think and how to behave?
How often do you commission meaningful, emotionally intelligent, independent research to understand what your customers (and others in your marketplace) really think of you, your business, and your products and services – warts and all?!  And if you're scared to know, like most business leaders, or it doesn't even occur to you that it might be important, ask yourself how you would feel if you survived a car crash in which someone you love dearly was killed because you were driving recklessly, without due care and attention.  Then imagine that all of the people who work with and for you were killed in a crash caused by you, and think of the impact on their loved ones.  This may sound extreme, but I once worked for a 400 employee company which failed due to reckless leadership and I have observed similar situations repeatedly for 18 years since then as a consultant, turnaround specialist and interim manager.
Is the basic stance of your organisation that it knows most, if not all, of the key information it needs to succeed, or is it engaged in a never-ending quest to learn and adapt better to the marketplace?
Does your organisation have a clear and compelling purpose beyond profit, and does it treat cash and profit as blood and oxygen – essential for healthy life, but not its core purpose?
Do the majority of your staff believe in your organisation and feel they truly own its core purpose?  Does it excite them?  If not, why not?
Hand on heart, are most of your business decisions made intuitively, using gut feel, often impatiently due to the pressure of expectations or the need for quick results, instead of by gathering objective data, analysing it carefully, and refusing to be stampeded without good reason?
Do you post-rationalise your mistakes, secretly dispose of the bodies, pretend you knew what you were doing and it wasn't your fault, blame others and forces beyond your control, fail to learn any lessons and/or find yourself repeating the same, or similar, mistakes?  Top Tip – accepting your mistakes and apologising for them is one of the most cathartic, liberating and enabling steps any leader can take – welcome to humanity. It WILL make you a stronger, better and more respected leader – guaranteed.  In the eyes of the majority who matter most it will NOT be seen as weakness.
Here are some situations I've dealt with personally:
Last year I spent time helping a recent start-up company.  It uses a pure online business model to market and sell decorative products to consumers and businesses.  Its investors wanted faster sales growth and requested that it build a business-to-business (B2B) sales pipeline by contacting prospective business customers and actively selling to them.
Unfortunately the company found it difficult to think outside the collective experience of its founders, beyond the online sales model.  It did not understand B2B selling and was unwilling to listen to professional sales advice and expertise.  It tried to impose its own opinions of how to sell to B2B customers.  It could not understand why it was important to actively manage existing major corporate accounts with whom it had negotiated potentially lucrative, exclusive content licences on 2 year contracts, or why it was important to tackle large target customers who could place regular repeat and/or large orders.  The company made untested assumptions that these large prospects would demand minimum annual sales guarantees and/or upfront royalty payments, so it refused to take them seriously.  In one case it ignored a huge potential business opportunity with a major global music rights company who loved the product but wanted a high volume retail, not online, sales strategy, and was prepared in principle to consider waiving minimum annual sales guarantees and upfront royalty payments.  Similar opportunities existed with numerous globally recognised sporting brands and there was a limited window of opportunity (say 2-3 years) to harvest these opportunities, which required rapid action and dedicated effort.
A home furnishings company employing 450 staff persuaded a large venture capital firm to back a management buy-out (MBO) based on a business plan that predicted dramatic sales growth.  18 months later the company was in turmoil and in danger of going under.
Careful investigation quickly exposed fatal flaws in the MBO strategy.  The company had switched focus away from its traditional, high end, highly profitable customer base and begun chasing high volume, lower margin sales with out-of-town, warehouse-type home furnishing and accessories stores.  To meet their aggressive price points the company had outsourced all production from the UK to Pakistan – as a result lead times on orders were now 3 months whereas previously they had been 1 week or in some cases less!
This strategy proved catastrophic.  Established, loyal customers who paid healthy margins and were willing to pay even higher prices received terrible service and began to move elsewhere.  Meantime the large warehouse-type retail chains kept cancelling or changing orders, leaving the company with a growing mountain of unsold stock.  The company had built its very own perfect storm out of nothing, due to reckless greed and arrogance!
Sadly, the results were inevitable.  The company refused to accept the brutal realities (though it was almost certainly already too late) and the venture capital firm was powerless to do anything as it had only 49% of the shareholding.  8 weeks after I presented my findings the company went into administration.
I've recently been working for the UK marketing and distribution arm of a large, traditional American corporation which has acquired multiple manufacturing businesses around the world over many years.  Like many large organisations it is struggling to respond to rapid changes in technology, systems, management thinking, customer needs and competitive pressures.  Its current business processes are truly labyrinthine and require drastic simplification and modernisation.
The visionary, inspirational UK Managing Director has been in post 16 months and is determined to 'turn the oil tanker round' as he has done previously in several other, unrelated businesses.  This will require several key initiatives including a radical new commercial strategy, the development of a continuous improvement culture, more responsive and user-friendly IT systems, redesigned business processes, and above all far greater commercial agility reacting to accurate customer and market intelligence.  All of this will depend on a realisation and commitment from the company's European and US corporate bureaucracies of the need to adapt to brutal market realities and throw out its many sacred cows to avoid long-term extinction.
The ability to face up to painful decisions about what is actually core and what often appears core but in truth is no more than a self-deluding comfort blanket is arguably the single most important determinant of a business's survival and long-term prosperity.  It is one of the crucial differences between Top 1% performers and everyone else.  Top 1% companies ground their decisions in customer and market facts and data; everyone else is far too prone to opinion, hearsay and wishful thinking, and too often will accept false premises simply because they are driven by strong personalities or seemingly unstoppable juggernaut bureaucracies – "we do it this way because we've always done it this way", or "because we're ABC Corporation", so by implication we know better and have a right to tell customers what they can and cannot have!  This is folly – pride always comes before a fall and companies never know more or better than the market.
Do you recognise any aspects of your own company's behaviour in any of these stories?
Fortunately I'm also dealing with entrepreneurs and businesses who are alert to the dangers, willing to listen, experiment, learn, and be guided.
No matter how strong you believe your business model, products and services are never be afraid to subject them to the rigours of constant 'sparring practice' in the gymnasium before each 'big fight'.  Otherwise you may end up losing on points or even getting knocked out.  Always remember that business is a contact sport and the more contact you get the more resilient you will be when someone or something throws you a vicious right hook.   Complacency is a killer!